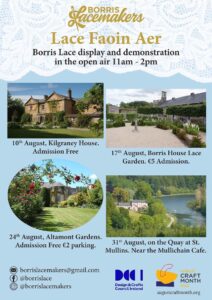 During August Craft Month, Borris Lacemakers will hold a weekly lace display and Borris lace making demonstration in various scenic locations throughout South Carlow
Come along, meet the makers, see how the lace is made, and view some beautiful samples of Borris Lace.
This event is suitable for all ages. Admission is free.
Further information can be found at: augustcraftmonth.org and by emailing borrislacemakers@gmail.com