Ballymurphy, historically Ballymurchoe (Baile Uí Mhurchú),
Ballymurphy is known to all as a gentle hillside village tucked into a glen of mountain slopes. Ballymurphy was once formally known as Ballymurchoe.
It is located on the western ridge of the Blackstairs Mountains, 18km from Bagenalstown and is situated between Borris Co. Carlow and Kiltealy Co. Wexford. The Blackstairs Mountains (Irish: Na Staighrí Dubha) are a range of hills in County Carlow and Wexford, Ireland. The highest peak is Mount Leinster, with a height of 2612 feet (791.8 m).
The name given to this town came from a landowner, Matthew Murphy of Clonroche, Co. Wexford. Matthew was a wealthy man who built a castle in the area in the 17th century.
The charm of this village is enhanced by its people's pride, which is expressed in its overall character and stunning show of flowers.
Ballymurphy is famous for its floral displays and hanging baskets.
Things to See & Do in Ballymurphy
Local Attractions
St. Patricks Church: the church dates back to 1846. The granite stones for St. Patrick's church were hammer-dressed. The church bell was moved to the school grounds beside Borris church and was replaced by a new bell presented to the parish by Mr. Byrne, a native of Ballymurphy, in 1914.
Rathgeran Rock Art Stone: the stone, found in the vicinity of Ballymurphy on the beautiful Blackstairs mountain, is believed to be as old as Newgrange or the Neolithic. This stone is a fine example of early prehistoric rock art in Ireland. There are nine circles carved on the stone. 
Activities
Walking, hiking, sightseeing.
Sports
Mount Leinster Rangers GAA Club, which was founded in 1988 with the amalgamation of 3 parishes.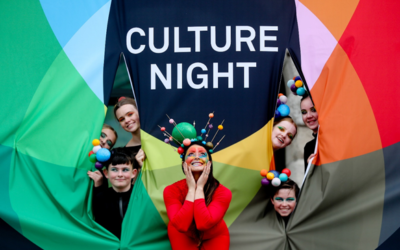 Culture Night 2021 Invites Us To Come Together Again Friday 17th September 2021 culturenight.ie Culture Night invites everyone, everywhere on one joyful night to discover and celebrate all that culture is today. With a rich and diverse programme of thousands of events...