We here in SOS want to invite you to atttend a day of wellness. A wellness workshop is a day for you to take time out for yourself and learn a wide range of practical tips, tools and techniques that you can use in your everyday life to improve your own wellness. Topics covered in the workshop include:
• relaxation and stress management
• feeding the Wolf of Hope
• the relationship between thoughts and emotions
• how to develop a wellness toolkit and daily wellness plan
• a tool to help you find balance in everyday life
Workshops are informal and relaxed. They are facilitated by people with both lived life experience of mental health struggles, and people with experience of working in the area of mental health. A comprehensive Wellness Workbook to support you in maintaining your daily wellness is included.
There is no charge to attend a Wellness Workshop. Places on the Workshop are fully funded with thanks to our funder the National Office for Suicide Prevention, our wonderful donors, and our incredible fundraisers, making our wellness workshops accessible to everyone.
Refreshments will be provided on the day.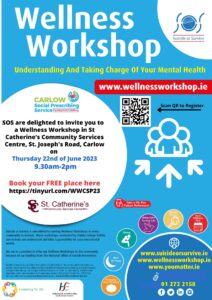 Register Here: Wellness Workshop Carlow Tickets, Thu 22 Jun 2023 at 09:30 | Eventbrite