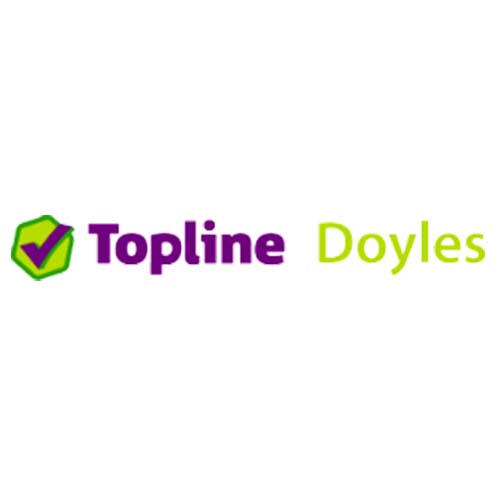 Formed by James Doyle, great-grandfather of the present owner Michael Doyle, Doyles of the Shamrock opened for business on 17th March 1884.
At the time when Michael Doyle became chairman and CEO of the company, it employed ten people and consisted of a bar, grocery and hardware store. Under his guidance, Topline Doyles has flourished and today boasts an importers and distributors division, two successful hardware stores located in Carlow and Tullow respectively. Total employment in the MP Doyle Group is more than 100.
Since 1979, when Topline Doyles became one of the founding members of the Topline group, it has been a crucial support to the survival and success of our business. Alongside the other 150 plus stores nationwide that are affiliated to the Topline group, they benefit from its huge bulk purchasing power, from its relationship with the world's largest independent hardware group, Ace Hardware in America, and from its ongoing investments in marketing, staff training, merchandising and the most sophisticated computer system in the hardware industry today.
The team at Topline Doyles is an exciting combination of young and experienced staff, whose collective knowledge of the building, DIY and general hardware trades will ensure you get the best possible service. They have specialists in each department who complement each other to make sure they can help you, whatever your unique requirement.
They stock a complete range of both light and heavy building materials in our builders' merchants and DIY store. Their retail departments include: Halo Tiles, Paint, Stoves, Doors, Bathrooms, Flooring, Garden, Housewares, Tools, and Electrical Appliances. Customers benefit from our specialist services, which include delivery, key cutting, paint mixing, timber cutting, free quotations, and complete servicing of all garden and construction equipment.
As a member of Ireland's largest buying group, Topline, Doyle's of the Shamrock was revamped and rebranded in 2007 to Topline Doyles.
Over the years, Topline Doyles has been heavily involved in supporting and sponsoring a large variety of local sporting, social and charitable initiatives. Staff members in Topline Doyles are involved in local organisations and contribute to the success of many of these.
As Michael Doyle says, "what is bought locally, stays locally". Supporting local firms ensures better employment in the Carlow area.